Want Dazzling White Teeth? Visit Mallette Dental in Canton!
Mallette Dental offers the latest teeth whitening processes that brighten your teeth on a professional level. These products should not be confused with store-bought strips or take-home gel kits, which are often slow to work and temporary in nature. Rather, the teeth whitening procedures done at Mallette Dental provide significant results quickly and with far more permanence.
Does Teeth Whitening Really Work?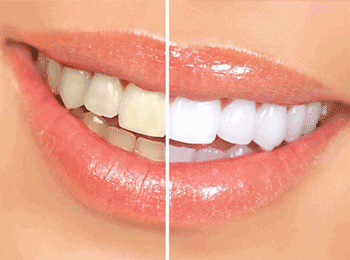 Most people will experience a natural buildup of organic pigments on teeth over time. Colorized proteins from coffee, tea, and other foods will darkened or yellow the natural whiteness of teeth. The use of tobacco, antibiotics, and certain minerals can also speed that darkening process. But tooth darkening and yellowing can be easily reversed.
Teeth whitening works by using one of two types of bleaching agents to remove stains. Hydrogen peroxide or carbamide peroxide work by breaking stains into tiny pieces, which makes the discoloration less concentrated and gives your smile a whiter appearance. The many before/after photo arrays out there is proof-positive that teeth whitening truly works.
You might first consider trying some at-home teeth whitening products. A few do work to a certain degree, but they have a built-in disadvantage: the chemical strength of the at-home products have but a small percentage of the active ingredients that a dentist will use in an office setting.
Most people choose to have their teeth whitened by a dental professional because they want the more immediate results that are only available with the stronger bleaching chemicals used in a dental office. Others are concerned about tooth sensitivity and want a dental professional to ensure the process is more comfortable. And plenty of people simply don't trust or believe in the effectiveness of over-the-counter teeth whitening products.
Having a dental professional whiten your teeth is a safe way to brighten your smile without fear of pain or damage — or wasted time and money.

Professional Teeth Whitening Programs from Mallette Dental
Mallette Dental uses some of the top teeth whitening systems to help patients get the photogenic smile they desire: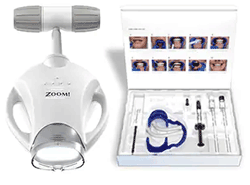 – Zoom Teeth Whitening by Philips is the most patient-requested professional whitening brand. It is clinically proven to whiten teeth up to eight shades in 45 minutes. The process shows clinically superior results versus other professional whitening alternatives, and is one of the fastest ways to create a brighter, healthier smile. The system combines a pH booster in its whitening gel with an advanced blue LED light-activated technology called WhiteSpeed to greatly accelerate the whitening process. Used together, Zoom delivers dramatic results in just one office visit!
– Opalescence Boost by Ultradent is an in-office power whitener. It provides brighter, whiter teeth after about an hour in the dental chair. The powerful 40% hydrogen peroxide gel is chemically activated, so it doesn't require an uncomfortable hot light to work. Opalescence Boost is mixed just prior to application, ensuring every dose of whitening is fresh and effective. The gel is applied directly to the teeth for a short time period then removed by the dentist. It works well; see some of the before/after photos at the link above.
– Life-Like Dental Products is one of the oldest and most trusted teeth whitening bleaching systems used in dental offices.
Canton Ohio's Best Teeth Whitening Dentist: Mallette Dental
Many local dental offices offer services for teeth whitening, using many different products and methods. Mallette Dental in Canton, Ohio puts significant study and resources into determining the best possible teeth whitening treatments. We weigh both the results and the expense to achieve those results to select the best options to offer our patients. Please make an appointment to discuss teeth whitening options with us — your bright white smile of the future will be glad you did!