Dental Crowns & Bridges in Canton, Ohio
If you have a damaged tooth but the root of that tooth is healthy, you are a candidate for a Crown.
If you have a gap of 2-3 missing teeth with that gap surrounded by healthy teeth, you are a candidate for a Bridge.
Canton, Ohio patients looking for a highly experienced practice to fit, create and install either a crown or bridge should look no further than Mallette Dental!
Canton's Crown & Bridge Dentist: Dr. Jeff Mallette
Getting the proper fit and selecting an exact match to your existing tooth color is just as much an art as a science. Let the professionals at Mallette Dental carefully examine your damaged or missing teeth and offer the best possible solutions — and the most cost-effective ones! — regarding the creation and installation of a crown or bridge.

Overview of a Dental Crown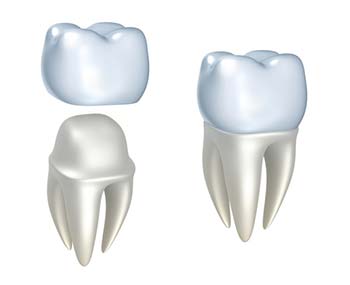 A crown is a tooth-shaped cover placed over a tooth that is damaged or decayed. People sometimes call this a cap.
A crown may be used to hold together parts of a cracked tooth. Crowns can be used to improve appearance, cover misshapen or badly discolored teeth as well.
A well made and properly fitted crown can last anywhere from a decade to many decades. A living tooth sits below the crown, so it is important that the patient brush the crown and gumline around the crown fully and carefully, just like a regular tooth.
To place a crown, the tooth in need of repair will be filed down to make room for the crown. From that, either an impression or a digital scan will be made of the tooth and the rest of your mouth, so that a lab can make the exact crown required.
Most crowns require two visits to the dentist, with a temporary crown fitted during the first visit until permanent crown is installed.
Overview of a Dental Bridge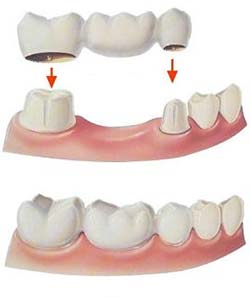 Dental bridges literally bridge the gap created by one or more missing teeth.
A bridge is made up of two or more crowns for the teeth on either side of the gap and a false tooth or teeth in between.
Dental bridges are supported by natural teeth or implants, called abutment teeth. The false teeth that fill the gap are called pontics, made from gold, alloys, porcelain, or a combination of these materials.
Traditional bridges involve creating a crown for the tooth or implant on either side of the missing tooth, with a pontic in between. Traditional bridges are the most common type of bridge and are made of either porcelain fused to metal or ceramics.
Cantilever bridges are used when adjacent teeth sit only on one side of the missing tooth or teeth. This option is no longer common, as implanted teeth are often a better solution.
A resin-bonded bridge (sometimes called a Maryland bridge) is made of porcelain, porcelain fused to metal, or plastic teeth and gums supported by a metal or porcelain framework. Metal or porcelain wings often on just one side of the bridge are bonded to your existing teeth.
During the first visit for getting a dental bridge, the abutment teeth are prepared, contouring the abutment teeth by removing a portion of enamel to allow room for a crown to be placed over the top.
Next, impressions of the teeth are made to serve as a model for the bridge to be made by a dental lab. A temporary bridge may be affixed to protect the exposed teeth and gums while the permanent bridge is being made.
On the second visit, the temporary bridge will be removed and the new porcelain or metal bridge will be fit and adjusted.
Stark County's Best Crown & Bridge Practice
If you have a damaged tooth or a gap in your smile, please comve visit our Canton offices and talk with us about a crown or bridge. We can show you potential results and help you decide if a crown or bridge is right for you.
With a professional fitting from Mallette Dental, a crown or bridge can give you the smile you want for decades to come!