The Best Fitting Dentures in Canton, Ohio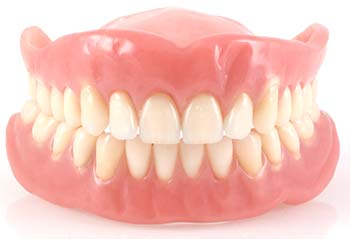 Do you need dentures? Do your current dentures not fit as well as they should? Then make an appointment with Dr. Jeff Mallette of Mallette Dental!
Mallette Dental offers top-quality dentures with precision fittings. Mallette Dental offers a FREE denture evaluation and recommendation. And Mallette Dental has the best financing options available for its patients!
Canton Dentures: Mallette Dental
Mallette Dental offers full and partial dentures that are custom made, to guarantee the look, fit and function of your dentures. We use the injection molded processing system IVOCAP® to ensure better stability and patient satisfaction long term.

Stark County's Denture Technology Specialists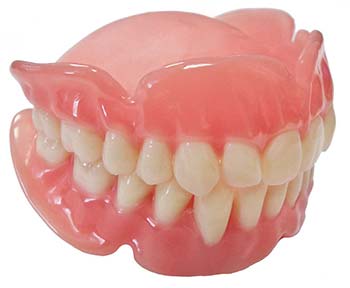 Not all dentures are fabricated using the same materials or techniques. Those material and fabrication differences can be critical to your comfort and health.
The acrylic used for the pink portion of most dentures can shrink when it is processed. In turn, that shrinkage can cause inaccuracies in the fit of the denture to your gums and mouth. This shrinkage can cause a host of dental health problems, including an inaccurate bite, sore spots and movement of the dentures during eating and speaking.
Instead of risking any of these denture problems, Mallette Dental uses a revolutionary system called SR Ivocap®. This system was developed to completely compensate for the processing shrinkage of the denture base material.
The injection technology used during the SR Ivocap® system is state-of-the-art, with the accuracy of this process resultiing in a denture that provides the best fit possible.
Another Option: Implant Dentures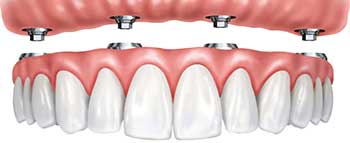 Another option for a denture patients is the use of implant dentures. Implant-supported dentures anchor into place using dental implants as "artificial tooth roots". These implants are surgically embed into the patient's jawbone and gum tissue. It's common for dentists to use least four dental implants to support a set of dentures, with the configuration customized to the patient.
The best candidates for implant-supported dentures are people who are missing many, most, or all of their teeth. But the patient must have enough jawbone density and gum tissue to secure the implants, and the patient should not suffer from medical problems that would make oral surgery a potential risk.
Some patients may simply not be a good candidate for implant-supported dentures. In these instanced, traditional dentures are a better option to address their tooth loss.
Denture implants offer a level of stability and security that you cannot achieve with traditional dentures. The dental implants also prevent bone loss and gum recession from occurring.
But implant dentures are more expensive than over-the-gums dentures and require a long healing process. Patients who have an issue with cost or healing time may prefer traditional dentures. It's important for patients to have a realistic expectation about the treatment process, which includes recovery and the side effects of surgery.
Learn More About Dentures from Mallette Dental — FREE!
Come visit our Canton offices to talk with us about dentures. The consultation is free! We can show you potential results. We can help you decide if a dentures are right for you, and which type of dentures can best meet your needs.
Get the confident smile you want with dentures from Mallette Dental!